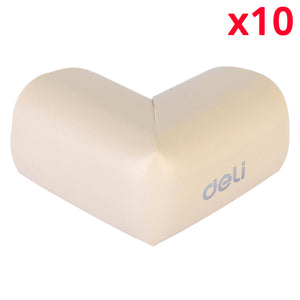 Baby Corner Guard (10 PCs)
SKU:
52894
BUMPER CORNER 
Model: 30560
Brand: DELI
ALU: 6975165336476
Color: CREAM

Deli – Baby Corner Guard
Bumper Corner (10 Pieces)
Brand: Deli
Model: 30560
Color: Cream
Product Size (each): 60 x 35mm
Thickness: 12mm
Material: Foamed NBR substrate
Feature: 
Easy clean-up.
No residual Glue.
Not easy to break.
Good impact resistance.
Reduce collision damage.
With PET double-sided tape.
High density and good toughness.
Honeycomb foam bounces back quickly.
Environmentally friendly, safe and odorless.
We Also Recommend