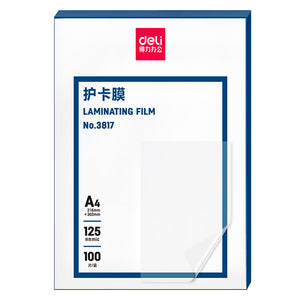 Laminating Pouch, 100PCs (A4)
SKU:
40128
125 MICRON 
Model no: 3817
Brand: DELI 
ALU: 6921734938176
Size: A4
Color: CLEAR
Deli - Laminating Pouch
100 Sheets (125 microns)
Brand: Deli
Model: No: 3817
Color: Clear
Size: A4 (216 x 303mm)
Thickness: 125 microns.
No. of Sheets: 100 Sheets
Material: PET + PE + EVA
Features:
100 Sheets – 125 microns.
Long-lasting file archiving.
Applicable for the protection and preservation of documents, photos, newspaper clippings, specimen books, catalogues, restaurant menus, office documents and other textual and graphic files.
We Also Recommend