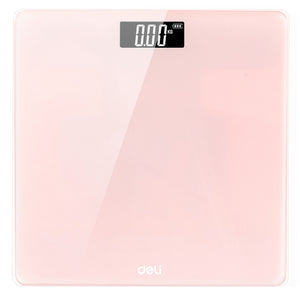 Bathroom Scale
SKU:
52826
TEMPERED GLASS
Model no: 86120
Brand: Deli
ALU: 6975055756858
Color: PINK
Deli – Bathroom Scale
Tempered Glass
Brand: Deli
Model: No: 86120
Color: Pink
Scale Platform: Tempered glass platform
Screen: LCD night vision screen
Auto off: Yes
Auto start: Yes
Measurement Range: 5kg (11lbs) to 180kg (400lbs)
Dimension (W x D x H): 26 x 26 x 2.3 (10.2" x 10.2" x 0.9")
Features:
Four-sided corner.
Non-slip silicone feet.
LCD night vision screen.
Digital bathroom scale with a large area of ​​260 x 260 mm.
Sensory Switch: auto-off and auto-on when standing on the scale.
High strength tempered glass: 5mm high-strength tempered glass.
Wide measurement ranges from 5kg (11lb) to 180kg (400lb) with 100g (0.2lb) graduation for increased reliability.
We Also Recommend