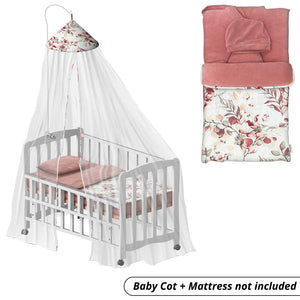 Baby Bedding Bundle (3 PCs)
SKU:
52619
BABY BEDDING 
Brand: ELMALELLA
ALU: 54128
Color: ROUGE
Note: Baby Cot and Mattress not included.
ElmaLella – Baby Bundle (3 Pieces)
#52558 - Baby Bedding Set - x1

Ava Sleep Set (4 PCs)
Brand: ElmaLella
Model: NS-42154
Color: Rouge
Material: Cotton
Standard Crib Fit: 120 x 60cm

Set Includes:
Pillow (25 x 38cm) -

 

x1
Pillow Cover (25 x 38cm) -

 

x1
Fitted Sheet (60 x 120cm) -

 

x1
Quilt (76 x 113cm)

 

- x1
Features:
Set of 4 Pieces.
Soft and noiseless sheets.
Anti-allergic fiber for newborn sensitive skin.
#52568 - Baby Cocoon - x1
Lily Newborn Cocoon
Brand: ElmaLella
Model: MD-62254
Size: 36 x 64cm (14.2" x 25.2")
Color: Rouge
Material: Cotton
Features:
Swaddle Blanket with Hat.
Your baby will sleep better and so will you.
Filled with breathable anti-allergenic fiber.
Luxurious softness:

 

Comfort your little one with the amazing softness of swaddle!
#52572 - Baby Mosquito Net - x1
Moon Cone Mosquito Net with Stand
Brand: ElmaLella
Model: MN-31364
Color: Rauge
Material (Mosquito Net): Cotton + Tulle Fabric
Material (Stand): Metal + Plastic
Overall Size (Dia. X H): 45 x 161cm (17.7" x 63.4")
Features:
Stand included.
Lightweight and compact.
The prop consists of 3 metal tubes which can be joined together easily; the stand can be fixed onto crib rail securely with the plastic screw-clamp system without damaging rail.
We Also Recommend