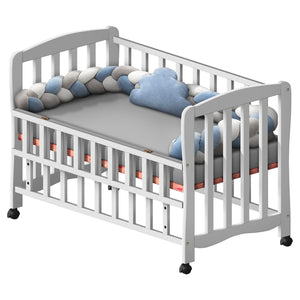 Baby Bedding Set
SKU:
52563
BELLA BRAIDGED BABY COT VELVET (3 PCs)
Model no: BS-14152
Brand: ELMALELLA
ALU: 54075
Color: YALE
Note: Baby Cot & Mattress not included. Only for Reference.
ElmaLella – Baby Bedding Set
Bella Braided Baby Bedding Set (3 Pcs)

Brand: ElmaLella
Model: BS-14152
Color: Yale
Material: Cotton
Standard Crib Fit: 120 x 60cm

Set Includes:
Bumper Pillow (230cm) - x1
Shaped Pillow - x1
Fitted Sheet (60 x 120cm) - x1
Features:
Set of 3 Pieces.
Made with high-quality materials.
Including a Bumper, decorative cushion and bed sheet.
Designed to provide a barrier for your child's bed or play area.
Can be used as a back cushion at any age or a sleeping pillow for toddlers.
Provide an extra layer of softness and safety for babies who are sleeping in cribs.Serves as a soft barrier to prevent little hands and feet rom getting stuck in the side of the bed.
We Also Recommend