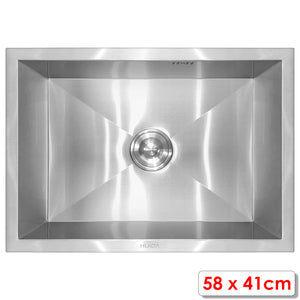 Kitchen Sink
SKU:
51260
UNDER MOUNT / TOP MOUNT 
Model: HDSC8722
Brand: HUIDA
ALU: 23662
Size: 580X410MM
Color: SILVER

Huida – Kitchen Sink
Top Mount or Under Mount Single Bowl
Brand: Huida
Model: HDSC8722
Color: Silver
Sink Hole: Ø9.2cm
Material: 304 Stainless Steel
Overall Dimension (W x D x H): 58 x 45 x 22cm (22.8" x 17.7" x 8.7")
Accessories Included:
Single bowl Sink Pipe (PVC) Drain Kit – X1
Basket Strainer Drain – X1
Cleaning and Care Instruction
Cleaning
Clean regularly with a mild detergent solution and/or clean with water applied with a soft cloth or sponge, rub gently.
Rinse and wipe the sink dry after every use to prevent water spotting & mineral deposits in severe hard water conditions.
Deep clean once a week with a recommended cleanser (be sure to rub in the direction of the polish lines) and a soft cloth or sponge rather than aggressive cleaning.
Please note chlorides are found in most all soaps, detergents, bleaches, and cleansers. Chlorides can be harsh on stainless steel. Rinse your sink thoroughly after each use to remove any chloride residue.
Scratches
Scratches are inevitable during your usage over time. Use a soft abrasive pad and follow the original polish lines to remove the scratch in a small area.
Be cautions not to overdo the process, too aggressive procedure will result in a bright spot.
Some Don'ts:
Don't use any abrasive cleaners such as steel wool or scrub pads.
Don't leave wet sponges, cloths, cleaning pads, rubber mats, or dishpans in the sink. This could lead to surface rust or possible pitting.
Don't leave standing solutions of chlorine bleach and water in the sink for extended periods of time. Always rinse the sink after using such solutions.
Don't allow liquid soap or other cleansers to dry on the surface of the sink.
We Also Recommend