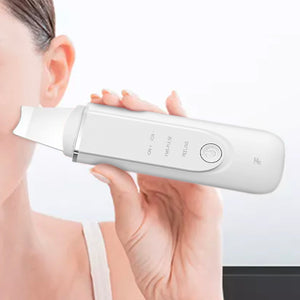 Skin Cleaner
SKU:
49939
REFLEX BAG 
Model no: MS7100
Brand: INFACE
ALU: 6971308400271
Color: WHITE
inFace – Skin Cleaner
Features:
Type-C Charging Cable included.
Ultra-thin head only 15 millimeters.
With head protector for when not in use.
Smart shutdown after five minutes of use.
Bowed head: adaptation to all areas of the face.
Double-wave high-frequency vibration, strongly shatters blackhead dirt.
Central button for turning the device on and off, as well as for switching between modes.
4 Modes:
Peeling: Ultrasound vibrates dirt away.
ION +: Positive ions removes oil & dirt.
ION -: Negative ions infuse essences.
EMS Plus: EMS micro current firms the skin.
inFace – Skin Cleaner
inFace Ultrasonic ionic Cleaner
Brand: inFace
Model: MS7100
Color: White
Rated Power: 1.5W
Battery: 3.7V / 500mAh
Charger Input: 5V
Charging Time: About 2 hours
Material: 304 stainless steel, chrome Plated, ABS Plastic
Dimension (W x D x H): 42 x 15 x 172mm
Net Weight: about 85g
Package Content: Ultrasonic Ion Cleanser (x1), Type-C Charging Cable (x1), User Manual (x1)
We Also Recommend