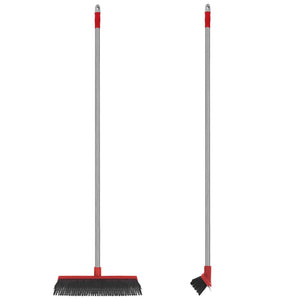 Broom with Squeegee
SKU:
43076
FLOOR BRUSH WITH STICK
Model no: K130035
Brand: LIAO
ALU: 6959125703683
Color: RED/GREY
Liao – Broom
Floor Brush with TPR Squeegee
Brand: Liao
Model: K130035
Color: Red/Grey
Handle Length: 140cm (55.1")
Broom Head Width: 40cm (15.7")
Material: Steel + Plastic + TPR Rubber
Features:
50mm Long PP Bristle.
Durable and Eco-Friendly.
140cm steel handle With Hanger Hole.
40cm brush head with TPR squeegee.
Water stains can be shaves away easily and make the floor bright and clean.
Good elasticity and hardness bristles pick up fine dust, hair and dirt from various kinds of surfaces.
We Also Recommend