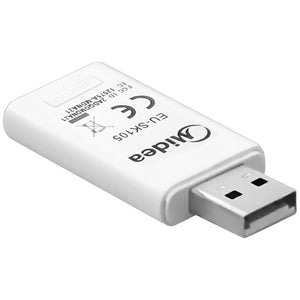 AC Wi-Fi USB Dongle
SKU:
47977
AC WIFI USB DONGLE
Model no: EU-SK105
Brand: MIDEA
ALU: 123456789012
Color: WHITE
Midea – Adapter
Wi-Fi USB Dongle
Brand: Midea
Model: EU-SK105
Color: White
Standard: IEEE 802.11b/gn
Antenna Type: Printer PCB Antenna
Frequency Band: 2400-2483.5MHz
Operation Temperature: 0°C ~ 45°C / 32°F ~ 113°F
Operation Humidity: 10% ~ 85%
Power Input: DC 5V/300mA
Maximum TX Power: <20dBm
Material: Plastic
Dimension (W x D x H): 25 x 57 x 8mm
Details:
Compatible for Only Midea ACs.
The AC system is in constant connection with a wireless router or access point attached to the internet.
The AC system is equipped with remote control technology, with the Wi-Fi module inside the machine connected to the display panel and the commanded to run the AC transmitted.
Mobile terminals such as smart phones and tablet computers, on which special control software are installed an Wi-Fi modules successfully configured locally, can be used as remote controllers once they are connected to the internet.
Note:
For mobile terminals such as smarts phones and tablet (Android and IOS only), search and download "Midea Air" from Google Play or App store and install in on your system.
Compatible for Only Midea ACs - Midea Air Conditioners
Click here for Instruction Manual
We Also Recommend