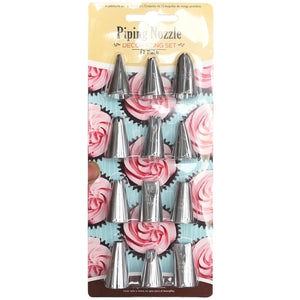 Piping Nozzle (12 PCs)
SKU:
46437
STAINLESS STEEL  
Model no: KA0735
Brand: UBL
ALU: 9333527507099
Color: SILVER

UBL - Piping Nozzles
12 Pieces
Brand: UBL
Model: KA0735
Color: Silver
Material: Stainless Steel
Features: 
Made from stainless steel material that is safe for health, anti-corrosion, no harmful ingredients.
Ideal for cake decoration and modeling, helping you to easily perform border creation, freezing, and balancing operations.
With 12 different shapes of UBL Cap for your cakes, such as rose, UBL Ice Cream Roller helps you to create beautiful and attractive overlays for your cakes and pastries. 
We Also Recommend