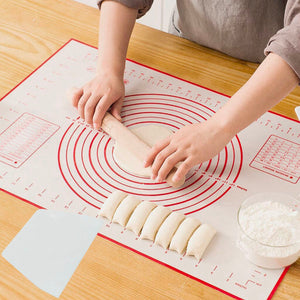 Pastry Mat (40 x 60cm)
SKU:
47801
NON-STICK 
Model no: KC0224
Brand: UBL
ALU: 9333527280510
Size: 5M

UBL – Pastry Mat
Silicone Non-Stick Pastry Mat
Brand: UBL
Model: KC0460
Size: 40 x 60cm (15.7" x 23.6")
Material: Silicone
Features:
Food Grade.
Easy to clean.
Oven Safe.
Freezer Safe.
Microwave Safe.
Dishwasher Safe.
Can be rolled for compact storage.
Silicone that will not tear and is heat-resistant up to 230°C.
Non-stick, lets you handle bread or pastry dough with ease.
Covers a large surface area, making it easier to work and clean up after.
Comes with handy tips and kitchen conversion table for consistent baking results.
Ideal for rolling and kneading out a perfectly round pie crust and dough, making backing simple with this non-stick mat and its helpful measurement guides.
We Also Recommend