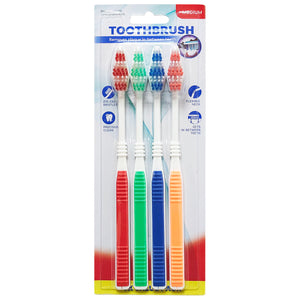 Tooth Brush (4 PCs)
SKU:
52028
ADULT FLEXI
Model: AT0840
Brand: UBL
ALU: 9333527692009
Color: ASST
UBL – Toothbrush
Adult toothbrushes (4 Pieces)
Brand: UBL
Model: AT0840
Color: Assorted Color
Size: Medium
Features:
Flexible neck: For added comfort, thorough clean and easier access to back teeth.
Zig-zag bristles: multi-angle pattern bristles designed to clean and remove plaque in-between teeth.
Gets in-between teeth: Maintains good oral hygiene for deep cleaning in-between teeth and gum lining.
Precision clean: Designed for deep clean and medium bristles for gentle gumline cleaning to improve gum health.
We Also Recommend