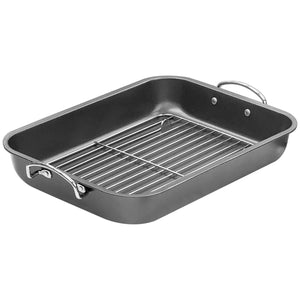 Baking Pan (37 x 27cm)
SKU:
43301
NON-STICK
Model no: KC0101
Brand: UBL
ALU: 9333527108807
Color: GREY

UBL – Baking Pan
Non-Stick
Brand: UBL
Model: KC0101
Color: Grey
Material: Steel
Shape: Rectangular
Inner Dimension: 37 x 27cm (14.6" x 10.6")
Overall Dimension (W x D x H): 43 x 29.5 x 6cm (16.9" x 11.6" x 2.4")
Features:
Premium non-stick coating, non-stick for easy cleaning.
Tray made from carbon steel is absolutely safe for the health of users.
Used to bake a variety of foods, fish, bread, baked goods, depending on your needs.
The tray has extremely high anti-stickiness, separating the grill section, making it easy to disassemble and clean. Good use in ovens, microwaves, refrigerators.
UBL Anti-Stick Grill Tray is made of high-quality carbon steel, absolutely non-stick, for your grill is always golden, beautiful, not stick to the mold, easily removed from the baking tray.
We Also Recommend