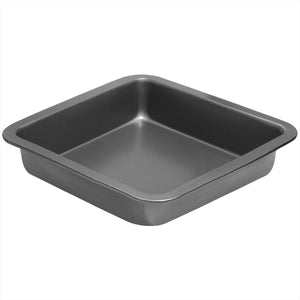 Baking Pan (20 x 20cm)
SKU:
43297
NON-STICK
Model no: KC0086
Brand: UBL
ALU: 9333527077561
Color: GREY

UBL – Baking Pan
Non-Stick
Brand: UBL
Model: KC0086
Color: Grey
Material: Steel
Inner Dimension (W x D): 20 x 20cm (7.9" x 7.9")
Overall Dimension (W x D x H): 22.5 x 22.5 x 5cm (8.9" x 8.9" x 2")
Features:
Safe carbon steel material in food processing.
Easy to clean and clean, can be used in ovens, refrigerators, dishwashers.
Suitable for making various types of square baked goods according to your preferences.
Premium non-stick coating, non-stick for easy cleaning, easy release for cakes and parties.
UBL square non-stick baking mold is the ideal baking mold for making sweet cakes and pies.
High quality non-stick surface, smooth surface and easy to remove the cake when the cake is cooked.
The tray has a smooth surface, absolutely non-stick. Make sure to bring you the most delicious and beautiful baked pies.
We Also Recommend