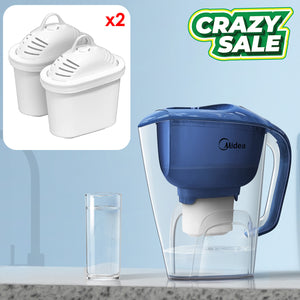 Water Purifier (1.2L) with x2 Filters
SKU:
44480
WATER FILTRATION JUG
Model: QC1548
Brand: MIDEA
ALU: 20746
Size: 1.2L
Color: CLEAR
*Note: This Water Purifier will be Discontinued Once Stock is finished.
Midea – Water Purifier with Replacement Filters
Bundle Includes:
#43174 - Water Purifier - X1
Water Filtration Jug
Brand: Midea
Model: QC1548
Color: Clear
Material: Plastic
Water Temperature: Not exceeding 38°
Filtered Water Capacity: 1.2 Liter
Product Dimension: 13.8 x 27.5 x 27.5cm (5.4" x 10.8" x 10.8")
Weight: 820g
Packing Contents:
Water Filtration Jug –

 

x1
Water Pitcher Cartridge –

 

x1
User Manual –

 

x1
Features:
BPA-Free Plastic.
Certified Effective Chlorine Removal.
Improves Tastes and Removes Odor
Digital Filter Lifespan Indicator: Easy digital read-out. Users are informed of when to replace cartridge.
Instant fill Lid: Refill the pitcher easily by letting the downward pressure of the running tap depress the caption, to fill up the reservoir, for filtration to commence.
#43184 - Water Filter - X2
Filter Specs:
Filter Cartridge Lifespan: 150L (Approximately 2 months)
Average Filtration Flow Rate: 320 mL/min
Filtration Technology:
Micro-Screen Filter:
Effectively blocks out rust and water contaminants.
Removes sediments to improve water quality.
Ion Exchange Resin:
Soften water effectively for better absorption.
Activated Carbon:
Reduces chlorine and bad odor present to enhance the taste of water for drinking and cooking.
Click here for User Manual
Click here for Replacement Water Filters (Sold Separately)
We Also Recommend