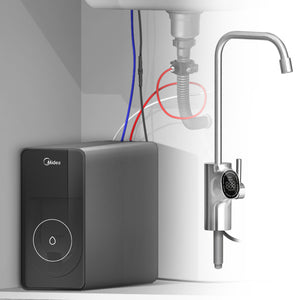 Water Purifier
SKU:
51069
UNDER SINK (SMART) 
Model: MRO2008-600G-RO
Brand: MIDEA
ALU: 23584
Color: BLACK
Midea – Water Purifier
Brand: Midea
Model: MRO2008-600G-RO
Color: Black
Rated Power: 85W
Rated Voltage: 100-240V~
Rated Frequency: 50/60Hz
Service Flow Rate: 1.5L/min
Total Filtration Capacity: 3600L
Filter Compatible: Fist Integral Composite Filter
RO Membrane Working Pressure: 0.4 – 0.8MPa
Feed Water Pressure: 0.1 - 0.6MPa
Feed Water Requirement: Municipal Tap Water
Feed Water Temperature: 4 - 38°C
Warranty: 12 Months Warranty
Features:
600g Water Flow.
60% clean water ratio.
Intelligent filter system.
All in one filter (RO System).
Filter replacement reminder.
Easy core change in 5 seconds.
Filter Specs:
Sediment Filter (PP)
Filter Lifespan: About 12 months
Intercepts organic matters and heavy metals in water.
Removes chronic, taste and odor. Improves the taste of water.
Effectively filters out sediment, rust and suspended solids in water.
Dimension & Weight:
Width x Depth x Height
Water Purifier Dimension: 15.2 x 40.6 x 30.4cm (6" x 16" x 12")
Packing Dimension: 25 x 50.5 x 47cm (9.8" x 20" x 18.5")
Net Weight: 8.1kg
Gross Weight: 9.8kg
Packing Contents:
Water purifier with filter – x1
Smart digital faucet with installation kit – x1
White 1/4" PE tubing (2m) – x1
Blue 1/4" PE tubing (2m) - x1
Red 1/4" PE tubing (2m) – x1
Drain saddle set – x1
Lock clips – x8
Feed water adapter – x1
User Manual – x1
Click here for User Manual
Click here for Replacement Filter (Sold Separately) 
We Also Recommend