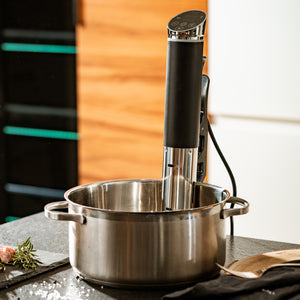 Slow Cooker
SKU:
50559
1200W 
Model no: AD6415
Brand: ADLER
ALU: 5903887804066
Color: WHITE
Adler – Slow Cooker
Sous Vide Slow Cooker
Brand: Adler
Model: AD6415
Color: Black/White
Max. Water in container: up to 20L
Rated Power: 1200W
Rated Voltage: 220-240V
Rated Frequency: 50/60Hz
Timer: 1min – 99hrs 59mins
Accuracy: +/- 0.1°C
Temperature range: 20°C - 95°C
Waterproof: IPX7
Product Dimension (Dia. x H): 9.5 x 41cm (3.7" x 16.1")
Warranty: 12 Month Warranty
Features:
Temperature in °C and °F.
Cooking without the addition of fat.
Removable heater housing for easy cleaning.
Sous vide: A healthy method of slow cooking.
Time setting from 1 minute to 99 hours and 59 minutes.
The device is made of water-resistant materials and has an automatic safety switch.
The perfect, original taste of the selected ingredients stays in the food, not in the water.
Can be used in pots and other heat-resistant containers with a minimum height of 15 cm.
Sous vide cooking is a technique that uses precise temperature settings to guarantee a uniform and perfect result every time.
Thanks to the slow and gentle preparation, the nutritional values of meat, vegetables and fish are preserved in the dish.
It's a device for slow cooking of food products, which allows you to preserve their nutrients and emphasize the unique taste of your favorite dishes.
Food, vacuum-packed in special bags, is placed in water in a pot and cooked at a precisely controlled temperature, which is usually much lower than in the case of traditional cooking of products.
Click here for Cooking Tips
Click here for User Manual
We Also Recommend