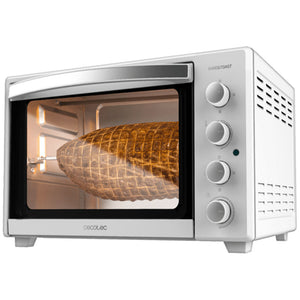 Oven (45L)
SKU:
52176
2000W BAKE'N TOAST 4500 WHITE GYRO
Model no: 2248
Brand: CECOTEC
ALU: 8435484022484
Color: WHITE
Size: 45L

Cecotec – Oven
Bake&Toast 4500 White Gyro
Brand: Cecotec
Model: 2248
Color: White
Capacity: 45 Liter
Rated Power: 2000W
Timer: up to 60 minutes
Adjustable Temperature: up to 230°C
Convection Cooking: Yes
No. of Functions: 3
Convection
Rotisserie
Convection + Rotisserie
No. of Heating Modes: 3
Upper heating
Lower heating
Upper & Lower heating
Accessories Included: Baking Tray (x1), Grill Rack (x1), Tray Handle (x1), Rotisserie (x1), & Rotisserie Handle (x1)
Dimension (W x D x H): 56 x 41 x 35cm (22" x 16.1" x 13.8")
Warranty: 12 Months Warranty
Features:
45-liter capacity.
Timer up to 60 minutes.
Adjustable temperature up to 230 ºC.
2000 W of power for optimal performance.
Operating indicator light and non-slip base.
Crumb-collecting tray ensures easy cleaning.
Tabletop convection oven in black lacquered steel.
Equipped with interior light that helps you control the state of cooking.
Included: tray for baking and grilling and handle with clip for extracting food.
12 ways to cook thanks to the 12 combinable heat, broiler and convection functions.
It includes a rotating rotisserie that allows you to roast chickens with heat distributed over 360º.
Convection cooks evenly with the air that surrounds the food and achieves tender and tasty results.
We Also Recommend