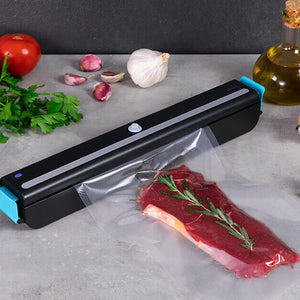 Vacuum Sealer Machine
SKU:
48078
85W FOODCARE SEALVAC 600 EASY 
Model no: 4117
Brand: CECOTEC
ALU: 8435484041171
Color: BLACK
Cecotec – Vacuum Sealer Machine
FoodCare SealVac 600 Easy
Brand: Cecotec
Model: 4117
Color: Black
Rated Power: 85W
Sealing Length: up to 29cm (11.4")
Vacuum Speed: 10 seconds
Vacuum Pressure: 60 kPa (0.6 bar)
Supports Generic Bags: Yes (no worry about getting any specific one)
Includes: 20 x 30cm heat-resistant bags (x5)
Dimension (W x D x H): 37 x 5.5 x 5.5cm (14.6" x 2.2" x 2.2")
Warranty: 12 Months Warranty
Features:
85W of power.
3mm sealing strip.
Sealing length up to 29 cm.
LED light during vacuum packing.
Suitable for universal generic bags.
Quieter vacuum packaging system.
Included: pack of 5 bags of 20 x 30 cm.
Fast vacuum packaging system in 10 seconds.
Lightweight and compact design, easy to carry.
Motor with vacuum pressure of 0.6 bar (approx. 60 kPa).
Vacuum packing machine that preserves any type of food for longer.
Automatic vacuum sealing function at the push of a button for ease of use.
To make its use more comfortable and faster, use the STOP option manually.
We Also Recommend