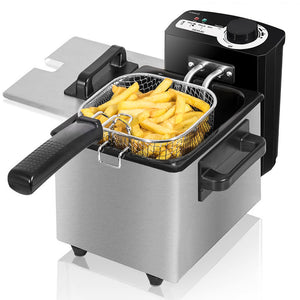 Deep Fryer (1.5L)
SKU:
45346
1000W CLEANFRY  
Model no: 3031
Brand: CECOTEC
ALU: 8435484030311
Size: 1.5L
Color: SILVER/BLACK
Cecotec – Deep Fryer
CleanFry 1.5 L
Brand: Cecotec
Model: 3031
Color: Silver/Black
Capacity: 1.5 Liter
Rated Power: 1000W
Rated Voltage: 220 - 240V
Rated Frequency: 50/60Hz
OilCleaner Filter: Yes
Bucket: Black enamel-coated
Dishwasher Safe: Yes (OilCleaner Filter, Fry Basket, & Enamel-coated Bucket)
Features:
1000W of power.
Stainless steel finishes.
1.5 liter capacity fryer.
Made of stainless steel.
Enamel-coated bowl, dishwasher safe.
Indicator light for operation and temperature range.
Includes OilCleaner filter to keep the oil clean after each use.
Adjustable temperature up to 190 ºC to adapt to different foods.
Protection against overheating and cable storage compartment.
Note:
Maintenance: 
After use, wash the container with warm water and properly wipe all metallic parts dry with a soft towel to prevent corrosion.
Don't use chemicals, scrubber brushes or any other sharp objects while cleaning.
12 Months Warranty: (Warranty does not cover physical damages or damages that occurred due to improper handling or poor maintenance)
We Also Recommend