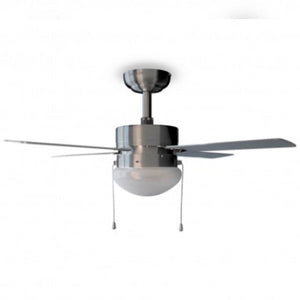 Ceiling Fan (Ø42")
SKU:
48015
ENERGYSILENCE AERO 450
Model no: 5940
Brand: CECOTEC
ALU: 8435484059404
Size: 42INCH
Color: SILVER

Cecotec – Ceiling Fan
Energy Silence Aero 450
Brand: Cecotec
Model: 5940
Color: Silver
Diameter Size: Ø106cm (Ø42")
Rated Power: 50W
No. of Blades: 4 (wood-type)
No. of Speeds: 3
Lamp: Yes
Remote Control: No
Warranty: 12 Months Warranty
Features:
Security System: complete security system that prevents any kind of incident during use.
Assembly Kit: Contains a kit with all the necessary parts to install the fan with complete ease.
EnergySilence Technology: immediately provides a deep feeling of fresh air with maximum silence and comfort.
Pull Chain Easy: easy operation via its pull switch. Operate all functions of the fan in the simplest and most accessible way.
AeroBlades: System consisting of 4 completely innovative and aerodynamic blades, designed to maximize airflow and ensure a constant flow of fresh air.
AirFlow Advance: technology to generate a completely cool environment in the most efficient way and with the minimum consumption, so that you can save on your energy bill.
Power Wind: 50W high power and high efficiency motor to amplify airflow and improve the sensation of coolness, with maximum reliability and durability.
3 Speed ​​Function: You can choose between 3 rotational speeds (Low-Night, Medium-Eco and High-Turbo) to set the intensity of the airflow to your liking.
Light System 2 in 1: The fan contains a lamp that makes it a useful hybrid device. Light up your home and get a perfect climate in an effective and affordable way.
Health & Safety: the fan complies with current legislation regarding safety and environmental protection, so that you can take care of your loved ones and your environment.
Reversible Design: neat design with elegant lines that goes well with the decoration of your home. The tops are also fully reversible and you can choose between two beautiful colors at any time: white and a light wood color.
Cool & Heat System: The fan has a system that allows to change the direction of rotation of the motor to set the summer and winter position. The direction of rotation of the blades can be selected via a switch. The summer direction generates a pleasant breeze and the opposite direction for the winter blows down the warm air that accumulates near the ceiling. The winter direction is a perfect addition to your heating system.
We Also Recommend