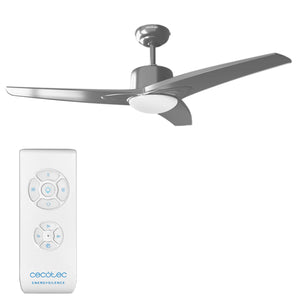 Ceiling Fan (Ø42")
SKU:
52128
3 BLADE WITH LIGHT & REMOTE CONTROL
Model no: 5943
Brand: CECOTEC
ALU: 8435484059435
Size: 42INCH
Color: GREY/WHITE

Cecotec – Ceiling Fan
EnergySilence Aero 470
Brand: Cecotec
Model: 5943
Color: Grey/White
Diameter Size: Ø106cm (Ø42")
Rated Power: 49W
No. of Blades: 3 (plastic-type)
No. of Speeds: 3
Lamp: Yes
Timer: up to 6 hours
Remote Control: Yes
Warranty: 12 Months Warranty
Features:
Elegant Design: modern and elegant design.
SecuritySystem: comprehensive security system that prevents any type of incident.
Cool Tim er: programmable timer 1, 3 or 6 hours after which the fan turns off automatically.
Smart Control: intelligent remote control via remote control. Intuitive, practical and easy to use.
Assembly Kit: includes a set with all the necessary elements to carry out the assembly with total ease.
3 Speed ​​Function: 3 speeds (low-Night, medium-Eco and high-Turbo) to adjust the intensity of the air flow.
Light System 2in1: includes a lamp that makes it a practical hybrid device. Light in the most effective way.
Aero Blades: 3 totally innovative, aerodynamic and large diameter blades. Guarantees maximum airflow constantly.
AirFlow Advance: technology that offers a fresh environment with minimum consumption. You will save on your electricity bill.
Power Wind: great power of 49 W, with a high-performance motor and maximum durability that increases the flow rate and the sensation of freshness.
Health & Safety: complies with current regulations regarding safety and environmental protection, so that you take care of your loved ones and those around you.
Cool & Heat System: motor rotation inversion system to carry out the summer/winter function. Selects the direction of rotation of the blades by means of a switch. It generates a pleasant breeze in summer and a warm atmosphere in winter.
We Also Recommend