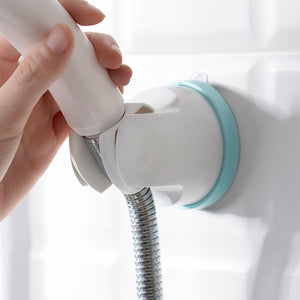 Shower Holder
SKU:
50815
ADHESIVE (PLASTIC) 
Model no: 255007
Brand: CHAHUA
ALU: 6921489042791
Color: WHITE
Size: 3KG

Chahua - Hook
Adhesive Damage Free Shower Sprinkler Base
Brand: Chahua
Model: 255007
Color: White
Holding Weight Capacity: 3kg
Material: ABS + PVC + PC Plastic
Dimensions (Dia. x H): 6.6 x 7.6cm (2.6" x 3")
Features:
Strong adhesive power.
Maximum 3kgs for the hook.
Easily adjustment in four angles of sprinkle.
It is made of solid and durable ABS material.
Adhesive designed to hold well to any wall surface.
Design to meet the different height need for sprinkle.
Creates a convenient hanging space in any bath or shower.
NO TOOLS, NO DRILLING, NO SCREWS, NO HOLES: With the adhesive design, it becomes extremely easy to install.
We Also Recommend