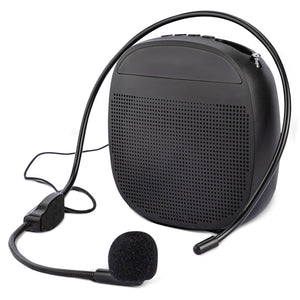 Speaker with Headset
SKU:
52974
5 WATTS
Model no: 51054
Brand: DELI
ALU: 6973504003041
Color: BLACK
Deli – Speaker
Brand: Deli
Model: No: 51054
Color: Black
Output Power: 5W
Rated Input: 5V == 1A
Frequency Response: 80Hz – 12000Hz
Interfaces: AUX, MIC, Type-C, TF SD card reader
Battery Capacity: 2000mAh (last about 20hrs)
Dimension (W x D x H): 10.4 x 3.6 x 10.4cm (4.1" x 1.4" x 4.1")
Features:
LCD screen.
High Volume.
TF SD card playback.
One-click recording.
Lightweight and portabl.
2000mAh rechargeable battery.
MP3 audio decoding technology.
Effectively improve work efficiency.
Includes: strap, charging cable, & headset.
Functions: megaphone, FM radio, PA (public address), recording, SD card playback.
Suitable for on-site sound reinforcement such as teaching, training, promotion, conferences, tour guides etc.
Package Contents:
Speaker – x1
Headset – x1
USB Cable (Type-C) – x1
Strap – x1
Manual (Chinese ver.) – x1
We Also Recommend