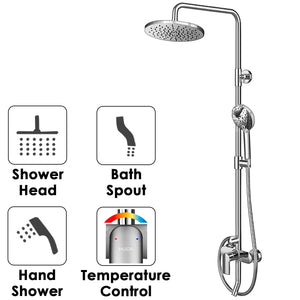 Shower Set
SKU:
51098
LEAD BRASS CHROME FINISH 
Model no: HWB0801-P01CP
Brand: HUIDA
ALU: 23613
Color: SILVER/WHITE
Huida – Shower Set
Brand: Huida
Model: HWB0801-P01CP
Color: Silver/White
Flexible Hose Length: 1.5m
Shower Head Diameter: Ø245mm
Hand Shower Diameter: Ø126mm
Material: Brass Chrome Finish
Features:
Mounting accessories included.
Temperature control between hot and cold.
Shower height: The height of the shower can be adjusted.
Rain Shower Head can be easily tilt to your desired direction.
Handheld Shower head can be adjusted into 3 spray modes.
3 Functions: the diverter turns between overhead shower head, handheld sprayer, and spout and only one run at a time.
Flushing mode: handheld shower head with built-in flushing wash mode for effortless cleaning of your bathtub, toilet, tile, and floor drain.
Click here for Full Dimension Image (High Quality)
We Also Recommend