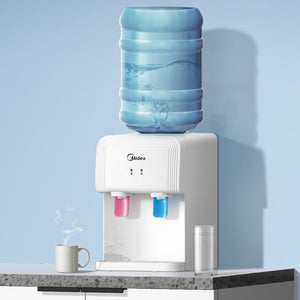 Water Dispenser
SKU:
53027
COUNTERTOP ELECTRIC
Model no: YD1539T
Brand: MIDEA
ALU: 54189
Color: WHITE
Midea – Water Dispenser
Countertop
Brand: Midea
Model: YD1539T
Color: White
Water Bottle Capacity: 5 Gallon (19 Liter)
Rated Power: 500W
Heating Power: 420W
Rated Voltage: 220-240V~
Rated Frequency: 50/60Hz
Hot Water Capacity: 4L/h (≥85°C)
Cold Water Capacity: 0.6L/h (≤15°C)
Cooling Current: 1.0A
Heating Method: Internal Element
Cooling Method: Semi-conductor
Warranty: 12 Months Warranty
Features:
Cold water tank, material – plastic.
Hot water tank, material – SUS304 stainless steel.
Suitable for home use or office building.
It should only be used with clean water.
Can be placed on a counter, table or shelf.
Drinking water dispenser with 2 taps (hot and cold).
Compact size, modern design, light weight, suitable for placing in any style of room.
Dimension & Weight:
Width x Depth x Height
Product Dimension: 25.4 x 29.5 x 38.7cm (10" x 11.6" x 15.2")
Package Dimension: 27.4 x 34 x 42.7cm (10.8" x 13.4" x 16.8")
Net Weight: 3.16kg
Gross Weight: 3.95kg
Click here for User Manual
We Also Recommend