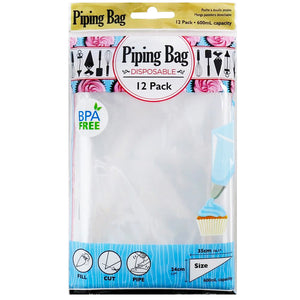 Piping Bag. 600ml (12 PCs)
SKU:
49050
DISPOSABLE (PLASTIC)  
Model no: KA0728
Brand: UBL
ALU: 9333527476463
Color: SILVER
Size: 600ML

UBL – Piping Bag
Disposable Piping Bag (12 Pieces)
Brand: UBL
Model: KA0728
Capacity: 600ml
Size: 35 x 24cm (13.8" x 9.4")
Color: Clear
Material: Plastic
Features:
BPA Free.
Perfect for decorating cakes with buttercream frosting or chocolate ganache making it easy for bakers to create the perfect cake creation.
With a triangular funnel-shaped design, the anti-slip surface texture helps you hold the ice cream and manipulate it more conveniently and easily.
Click here for Piping Nozzles (Sold Separately)
We Also Recommend