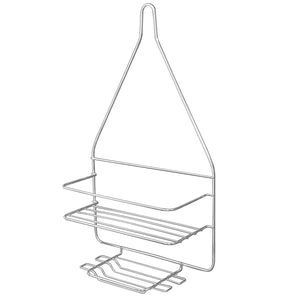 Bathroom Tray
SKU:
44041
CHROME WALL MOUNT BASKET
Model no: BH0012
Brand: UBL
ALU: 9333527006080
Color: SILVER

UBL – Bathroom Tray with Soap Holder
Chrome Wall Mount with 3 Layers
Brand: UBL
Model: BH0012
Color: Silver
Size: 10 x 25 x 44cm (4" x 10" x 17")
Material: Steel (Chrome)
Features:
Durable, shiny material.
UBL bathroom hanging frames are made of sturdy chrome material, with high durability and good strength. This metal material helps the product look shiny, beautiful and limited oxidation.
The product has 3 separate floors to help you store your things neatly and protect them from being dry.
The frame also has a convenient hook design so you can attach it at convenient points such as: on the wall, on the door ...
Lightweight, stainless chrome metal shelving, convenient to arrange the necessary items in the bathroom.
We Also Recommend