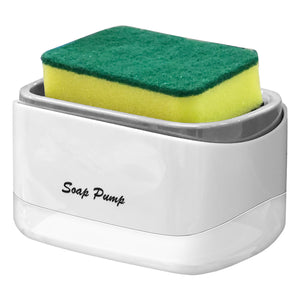 Soap Dispenser (with Sponge)
SKU:
52022
PLASITC
Model no: BH0949
Brand: UBL
ALU: 9333527613844
Color: ASST

UBL – Soap Dispenser
2-in-1 Soap Dispenser with Sponge
Brand: UBL
Model: BH0949
Color: Assorted Color
Material: Plastic + Sponge
Sponge Size (W x D x H): 11 x 6.7 x 3cm (4.3" x 2.6" x 1.2")
Dispenser Size (W x D x H): 14.5 x 10 x 8.5cm (5.7" x 3.9" x 3.3")
Features:
Easy to clean.
Sponge included.
Holds 350ml liquid soap.
Instant, compact storage for dish soap & sponge.
Press down on the top plate to dispense soap directly on to the sponge.
We Also Recommend