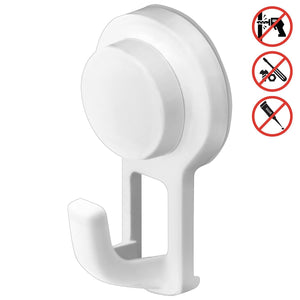 Hook
SKU:
46279
SUCTION WALL HOOK (PLASTIC) 
Model no: AG4223
Brand: UBL
ALU: 9333527598790
Color: WHITE
UBL - Suction Wall Hook
Brand: UBL
Model: AG4223
Color: White
Holding Weight Capacity: 2kg
Material: Plastic
Link Type: Hook
Dimensions (W x D x H): 6 x 4 x 11cm (2.5" x 1.5" x 4.5")
Features:
Creates a convenient hanging space in any bath or shower.
Suction cup designed to hold well to any wall surface.
Perfect for hanging and organizing your face towel, bath towels and clothes.
NO TOOLS, NO DRILLING, NO SCREWS, NO HOLES: With the suction cup technology, it becomes extremely easy to install bathroom accessories – simply press the suction cup against a clean flat surface and twist the knob until it is fully tight.
We Also Recommend