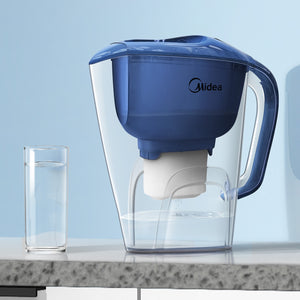 Water Purifier Pitcher (1.2L)
SKU:
43174
WATER FILTRATION JUG
Model: QC1548
Brand: MIDEA
ALU: 9832
Size: 1.2LTR
Color: CLEAR
*Note: This Water Purifier will be Discontinued Once Stock is finished.
Midea – Water Purifier
Water Filtration Jug
Brand: Midea
Model: QC1548
Color: Clear
Material: Plastic
Water Temperature: Not exceeding 38°
Filtered Water Capacity: 1.2 Liter
Features:
BPA-Free Plastic.
Certified Effective Chlorine Removal.
Improves Tastes and Removes Odor
Digital Filter Lifespan Indicator: Easy digital read-out. Users are informed of when to replace cartridge.
Instant fill Lid: Refill the pitcher easily by letting the downward pressure of the running tap depress the caption, to fill up the reservoir, for filtration to commence.
Filter Specs:
Filter Cartridge Lifespan: 150L (Approximately 2 months)
Average Filtration Flow Rate: 320 mL/min
Filtration Technology:
Micro-Screen Filter:
Effectively blocks out rust and water contaminants.
Removes sediments to improve water quality.
Ion Exchange Resin:
Soften water effectively for better absorption.
Activated Carbon:
Reduces chlorine and bad odor present to enhance the taste of water for drinking and cooking.
Dimension & Weight
Width x Depth x Height
Product Dimension: 13.8 x 27.5 x 27.5cm (5.4" x 10.8" x 10.8")
Weight: 820g
Packing Contents:
Water Filtration Jug – x1
Water Pitcher Cartridge – x1
User Manual – x1
Click here for User Manual
Click here for Replacement Water Filters (Sold Separately)
We Also Recommend