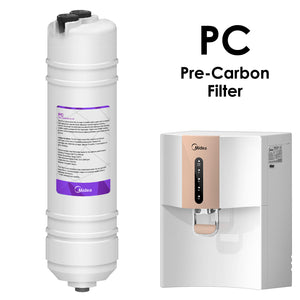 Water Filter (PC)
SKU:
51073
PRE-CARBON FILTER 
Brand: MIDEA
ALU: 23588
Color: WHITE
Midea – Water Filter
PC Pre-Carbon Filter
Brand: Midea
Compatible for: JN1742T-RO (Water Purifier)
Filter Lifespan: 3000L for Approx. 6 months
Working Pressure (@10°C): 4 - 60 psi
Water temperature range: 4 - 38°C
Total Dissolved Solids (TDS): Up to 2000 ppm
Material: Activated Carbon
Purpose: The Pre Carbon block filter is made of smaller carbon grain size to ensure high adsorption capacity which effectively reduces residual chlorine, harmful chemicals like pesticides and adsorbs bad taste and odor causing volatile organic compounds from feed water. Higher level of filter sealing prevent carbon leakage and ensures stable purification over longer period of time
Note: Compatible for Water Purifier (JN1742T-RO) Only.
We Also Recommend