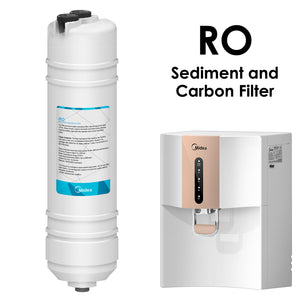 Water Filter (RO)
SKU:
51074
REVERSE OSMOSIS FILTER 
Brand: MIDEA
ALU: 23589
Color: WHITE
Midea – Water Filter
RO Reverse Osmosis Filter
Brand: Midea
Compatible for: JN1742T-RO (Water Purifier)
Filter Lifespan: 6000L for Approx. 12 months
Working Pressure (@10°C): 4 - 60 psi
Water temperature range: 4 - 38°C
Total Dissolved Solids (TDS): Up to 2000 ppm
Material: 75GPD RO Membrane
Purpose: The RO semi-permeable membrane filter reduces dissolved salts (TDS), heavy metals, organic chemicals and water borne disease causing organic organisms like bacteria and viruses from feed water.
Note: Compatible for Water Purifier (JN1742T-RO) Only.
We Also Recommend